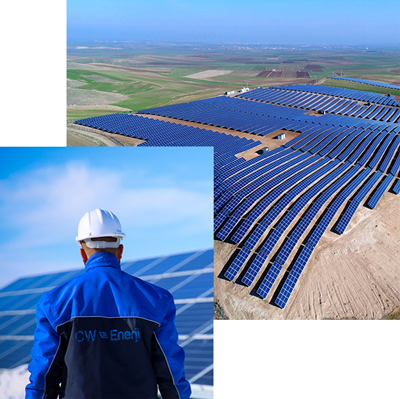 YOU WANT TO BE PART OF EUROPE'S AND TURKEY'S BIGGEST SOLAR PANEL MANUFACTURING PLANT WITH 1,3 GW ANNUAL PRODUCTION CAPACITY?
If you want to be part of Turkey's and Europe's largest energy company, offer quality service to potential CW ENERJİ customers and want to achieve good returns for those services, feel free to contact us anytime. Start to enjoy multiple benefits like trainings by our expert staff and other advantages of our dealer support programs …
In order to start your cooperation with CW ENERJİ and benefit from the dealership advantages, you can fill out the dealership application form immediately.
ARE YOU IN?
Do you want to be part of CW Enerji, which has Turkey's and Europe's largest solar panel manufacturing capacity? There is a place for everyone under our roof where the sun does not set!
Why CW Energy? With us you could enjoy the following advantages:
Superior production technology and high capacity.
Widespread distribution network.
Worldwide operation.
Qualified employees and expert staff. Philosophy and passion for sustainable energy
Trust in our qualities!
In today's world where resources are limited and renewable energy gains more importance day by day, environmentally friendly energy sources are indispensable for a clean future. The future is in our hands and CW Enerji is doing her best on this matter!
If you want to build this future with us, the only thing you need to do is to apply for a dealership with CW Enerji. With this application, you will be a part of our extensive family and benefit from our dealership advantages with the support and cooperation of our expert staff. Why not?
So what are the advantages of being a CW Energy dealer? Let's evaluate item by item.
Advantages of Being a Dealer
In a period when the world is turning towards completely sustainable and clean energy, such an opportunity cannot easily be seized. Don't hestitate and take your place among the pioneers! Since all researches in the world show that the solar energy sector will grow by 50 percent again in the next 5 years, depending on the geographical location and solar potential of your country, CW Energy dealership stands out as one of the most profitable business opportunities!
Turkey's and Europe's largest solar panel manufacturer's brand value is one of the leading advantages for our dealership partners. The dealership system of CW Enerji, which is becoming one of the most important actors in the photovoltaic energy production sector, is designed to improve the productivity of each stakeholder and increase their sales. Furthermore, this system will always protect you from sudden unfavorable scenarios!
CW Energy's brand value, the quality and position in the sector will always provide you with easy access to financing. You will be able to find support without any financing problems, especially thanks to the agreements we have made with the leading banks of our country. In general, solar energy systems provide great financing advantages to our dealers!
CW Academy, within the body of CW Enerji, always supports our dealers with continuous training. Every detail of the solar solutions is conveyed to our dealers through our periodically trainings held 2 times a month Furthermore, information is provided by our expert team regularly. During our dealer meetings, the CW Enerji family comes together and exchanges ideas on both the solution of possible problems and future plans. Your thoughts are valuable to us!
CW Energy provides solutions for your projects as packages which contain everything necessary. All required equipment, from solar panels to inverter, are supplied through a trouble-free supply process without the need for a second company. Since we have Europe's largest solar manufacturing plant, we can commence the shipment of your materials within the same day. Thus, you are always a step forward!
From the moment you become a CW Enerji dealer, you will never feel lonely. Thanks to our expert team, you feel like you are part of a growing family. With the technical support you will get from our expert team members responsible for your region, you can solve any problems rapidly.
At CW Enerji, you will not have the slightest problem in product supply. Thanks to our company, which has all off-grid / on-grid products in its stocks regardless of time and season, you can complete your project smoothly and without any problems on time.
From the moment you become a CW Enerji dealer, you don't have to think about promotion and advertising. Due to the project support of our engineers and the advertising support of our corporate communication and marketing team, you will have the opportunity to become an institution that makes a difference in your region. In addition, our team contributes to the expansion of your portfolio by instantly forwarding local requests received through our website / social media accounts and customer service numbers. In order to experience all these opportunities, qualities and privileges offered by CW Enerji, we invite you to join under our large roof where the sun does not set, and to build our clean future together! Are you in?